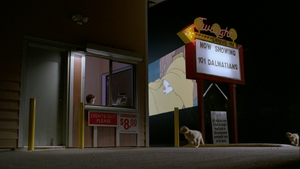 The Twilight Drive-In is a drive-in movie theater in Fernfield. The Buddies headed through it on the way to save their parents, Buddy and Molly. The puppies end up getting in the way of the projector and head into the kitchen. Budderball ate the popcorn, B-Dawg ate the licorice, Mudbud ate the chips, Buddha ate the wieners, and Rosebud ate the cotton candy. Meanwhile, dognappers Denning and Grim search out for them, but get into trouble when they accidentally reveal what they were doing to some puppy-loving bikers, who tie them up to the projection screen, where the patrons throw all kinds of sticky and messy food at them.
Appearances
Community content is available under
CC-BY-SA
unless otherwise noted.