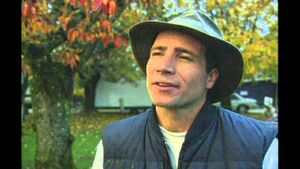 Kevin DiCicco is an American writer, actor, and the real-life owner Buddy.
In the summer of 1989 in Sierra Nevada, Kevin found a stray golden retriever and named him Buddy. DiCicco adopted the disheveled Golden Retriever and brought him home to San Diego, where he trained him in the sports of basketball, baseball, football, soccer, and hockey. Buddy's most eagerly awaited sport was basketball. He was touted as the Michael Jordan of dogs. DiCicco revealed that Buddy tried to bite the ball, but its slipperiness, enhanced by saliva or more efficiently by olive oil, would propel it from his mouth.
Kevin lost Buddy to cancer in 1998. In 2012, he published Go Buddy!, which tells a story about his dog.
Filmography
Community content is available under
CC-BY-SA
unless otherwise noted.